Our Vision and Mission
Our Vision: Drive your success with excellence
Our Mission: Cast the net
Our Logo shows a sword and shield that depicts that we will tend to be agressive in forward momentum, while protecting your valuable assets. My goal is to drive your business to success with uncompromised excellence.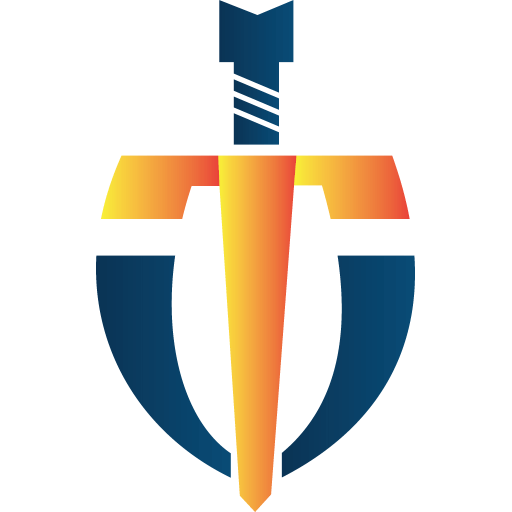 The Plight of Growing Small and Medium-Sized Businesses
From many conversations and experiences, growing small and medium-sized businesses and organizations lack forward-thinking plans for integrating technology. For many years, I was called to major corporations to primarily "put out the fires" due to a lack of clarity and direction (I was known as the project recovery expert who won and completed a $9M international program about to be canceled in 2013 due to lack of clarity!).
Many business owners who go from startups to small to medium-sized businesses are frustrated at the increasing complexity of technology and uncontrollable maintenance and upgrade costs. They see other competitors growing but do not know where to start tackling their scaling needs. They remain flustered and local (and, of course, if businesses stop growing, they can't but decline due to external forces). In turn, I am saddened to see business owners who can potentially grow suffer needlessly, unable to move their businesses to tremendous success because they can't see their technology use from a bigger picture and eradicate their existing inefficiencies.
I want to see business owners that have a relationship with me to become successful. That is why I made it my goal to help small and medium-sized business owners and leaders of non-profit and government organizations driven to grow their businesses and organizations to handle their technology successfully.
I choose to be my clients' technology coordinator, advising or overseeing their entire technology operation and overhauling their systems for ever-increasing scale, maximum profits, and minimal losses. I have been a prior CIO of a $1.5B company and directed technical aspects of Mergers and Acquisitions from a $19B global software company. I bring this expertise to you for the future success of your business.
If you own your business, you may have asked one or more of the following questions:
Are there any technology experts who understand both our technical and business needs?
Are there any technology professionals who will take the time to help us grow our business?
How could we afford the costs of a technology executive to guide us in using technology?
How could we go to one technology professional to handle all my needs?
Are there any technology executives who can work with us continuously with our staff?
Many technology professionals specialize in one or a few fields. Their fix for your situation is with what they know, discounting all the future ramifications their solution may cause (think of a person with a hammer). They gouge money from you and then leave you with new problems. Another set of professionals performs their specialties to leave you with more issues. After enough of that, you have a disjointed system that costs you significantly over time. Get in touch with me so I can help you cut out unnecessary costs at a price you can afford.
The plight and challenges of small and medium-sized businesses and corporations are:
UNCERTAINTY OF COMPLEXITY using modern technology
UNSTABLE GROWTH of business due to lack of integrated foundation and plans
UNKNOWN INEFFICIENCIES that swallow up the business in massive costs
UNNECESSARY EXPENSES dragging down the whole business
"We cast the net for you!"
Like it or not, today, businesses can only succeed with the effective use of technology. Long gone are the fruitful corner neighborhood grocery stores. To grow, you need to consider expansion, which continuously requires a solid technology foundation.
Unfortunately, as your business grows, your dependence on what you began with will likely leave you with expensive disjointed systems that stifle your growth.
However, with educated forward-thinking, you can scale, be profitable, and reduce unnecessary costs. That is what I provide for you! I can assess your inefficiencies and coordinate your vendors, custom development, and protection of your assets to make your unique business scalable and successful. Your success is mine.
I will cast the net with you and help you grow! With my business and entrepreneurial background, I will:
preserve your reputation
promote healthy growth
protect your valuable assets
prevent undesired risks
set you up for success.
My goal is to "drive your success with excellence." It means that
My focus is on you. My clients must succeed!
In every work I do, I only aim for excellence. It is a tenet that I honed and continue to keep from my USAF officer leadership.
When retained as your technology advisor, I will be an integral part of your company's executive team. I will drive your company to success with excellence and will work together with you to cast the net for maximum growth and minimal liabilities.
Contact me to discuss how I can help you as your technology coordinator. I would be happy to take you through the process in greater detail.